Innovation is the cornerstone of Shanghai Electric and we adhere to a strategic development approach revolving around our R&D team. We have some of the brightest minds in China working for us and we utilize their strengths to recognize and seize opportunities in the new energy sector.
Shanghai Electric remains focused on its four core business segments: clean energy, new energy and environmental protection, industrial equipment, and modern business services. Shanghai Electric also continues to promote entrepreneurship, sustainable R&D investment, and domestic and international partnerships. Through these efforts, Shanghai Electric is laying a solid foundation in order to realize the goal of maintaining solid growth even as a mature enterprise.
Shanghai Electric has formed three basic methods for technological innovation:
1) Existing technologies are brought in for our engineers to research and recognize strengths and weaknesses for improvement. This stage has led to new resources and intellectual property rights patents. Examples of this include Shanghai Electric's success with thermal power and elevator equipment.
2) Independent development usually involves recognizing market needs and creating designs to fulfill those requirements. Our experts draw up designs and run virtual models until we can build a prototype for real world testing. Once all of the testing and design work is complete, we can move on to full scale production. We have had great success with this in the past with the manufacturing of our large casting and forgings as well as with large scale marine crankshafts.
3) Through importing, digestion and assimilation with new technologies, efforts can be made to develop equipment with integrated capabilities. An example of this would be using technology developed for our steam turbines and applying it to our wind power generators and IGCC technologies.
—— Group Headquarters (Central Research Institute):
Emphasis on the research of common and future technologies.
—— Industrial Group:
Responsible for the development of medium-to-long term product lines and the R&D of core technologies.
—— Enterprise:
Here we develop short term new products and study ways to improve product performance and lower costs.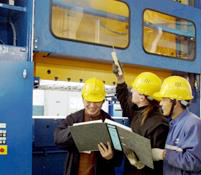 In possession of 4 national level and 14 municipal level enterprise technology centers, 2 nationally recognized labs, 2 industrial key labs, 4 municipal engineering research centers and 39 "Shanghai High-Tech Enterprises". Shanghai Electric has established several institutes for sharing resources within the industry. We have funded research and over 200 R&D projects with Tsinghua University, Shanghai Jiaotong University, related institutes of the Chinese Academy of Sciences, Shanghai Complete Generation Equipment Institute and Hua Neng Group, etc. We have also established 5 "Shanghai Electric Academic Studios" and 6 postgraduate studios.
While in the process of transformating into an independent and innovation-based enterprise, SEPG has developed a new, market-oriented R&D system. This system is based around market analysis and recognizing trends.
In January 2009, the SEPG's Technology Research and Development Center was unveiled. The center has four core technological research institutes and one frontier technology research center, the Huaneng-SEC Greenhouse Gas Emission Reduction Research Center. The primary focus so far has been the development of a new 1200MW ultra-supercritical thermal power generation unit, blades for nuclear power steam turbines and new tower-type furnaces to reduce greenhouse gas emissions.
The Through-flow and Blade Technology Research Institute specializes in the cross sectional and longitudinal studying of turbine blades. The product design and development has resulted in outstanding new equipment.
The Insulation Technology Research Institute concentrates on the study of basic theory, test methods and insulation reliability, as well as the R&D of new insulation materials and structures.
The Ventilation and Cooling Technology Research Institute is committed to the analysis and study of generators and their ventilation system structure. This research results in equipment that is safer and more efficient over its useful life.
The Combustion Technology Research Institute is devoted to the study and development of the clean and high efficiency combustion technology for various fuels.
The R&D efforts of the Shanghai Electric Heavy Industry Group are market-oriented, scientific research methods that have created nuclear power equipment and other heavy castings. The group operates a welding research institute and testing center. The cold and hot welding processes developed here are used in the production of many nuclear power machinery and industrial equipment.

Founded in 2004, Shanghai Electric Power T&D Group is a national enterprise technology center committed to research and production of equipment and components used in smart grid installations. This research is extremely important and has pushed forward control technology and digital signal processing capacities of high and low voltage grid systems.
This research center is outfitted with top-notch testing facilities, including a MW-level wind power generation full power test platform, low voltage ride through test platform, and a RTDS real time dynamic digital simulator. Through cooperation with Tsinghua University, Shanghai Jiaotong University, and the Chinese Academy of Sciences among other higher education institutions, we consistently develop new core technologies and gain a competitive advantage on the market.
To this point, we hold more than 10 invention patents already authorized or under application, including 8 utility model patents. The group has overseen 863 national projects and many key projects for Shanghai city, laying a solid foundation for technology industrialization and product commercialization.
Shanghai Electric Group's Power Transmission and Distribution Technology Center was founded in 2006. In 2008, it was honored as national-level enterprise technology center. There are more than 70 R&D professionals in the technology center. The laboratory was built with a 5MW full power motor test platform, voltage drop simulation test platform and electromagnetic compatibility test platform, all of which support outstanding enterprise development and product design capabilities.