Integrated gasification combined cycle, known as IGCC, is a high-efficiency, clean coal power generation technology which combines high-efficiency gas-steam integrated cycle power generation system and clean coal gasification technology. This comprehensive energy technology is currently being explored worldwide. Demonstration projects have been established successively in only a few foreign countries.
Its working principle is as follows:
After the coal is subjected to gasification and purification, more than 99% of the hydrogen sulfide and nearly 100% mill duct in the gas are removed. The solid fuel is converted into clean gas fuel that can be fired in gas turbine to drive the gas turbine to generate power. Then the gas-fired power generation is integrated with steam power generation.
IGCC Flow Chart
Its advantages are as follows:

High power generation efficiency, currently up to 45%, with high potential for further improvement. The experts expect that its power generation efficiency can be up to 55-60% as the technology becomes mature.
IGCC can realize pollutant removal efficiency of more than 98%, and high-purity sulfur can be recovered. Its emission of pollutants is only 10% that of conventional coal-fired power station.
Low water consumption, equivalent to 1/3-1/2 that of conventional thermal power units of the same capacity.
IGCC can realize nearly zero emission of carbon dioxide
IGCC can be combined with other advanced power generation technology (e.g. fuel cell), and can form even more advanced energy diversified production system along with hydrogen making from coal, coal-oil, etc.
Technical Advantages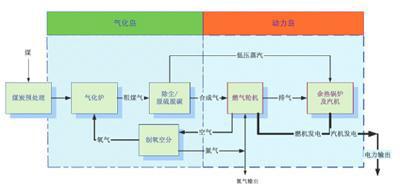 Based on the enterprise spirit "Morality + Quality" and first-class manufacture and test equipment among domestic and overseas counterparts, Shanghai Boiler Works Co., Ltd. has made several breakthrough achievements on key technology of IGCC gas turbines and has an overall grasp of each key technology of IGCC gas turbines. SBWC holds more than 10 invention patents.
Main technology advantages:
Thermal calculation technology for internals of gasifier
Steam-water system resistance calculation technology for internals of gasifier
Multi-head spiral continuous coil water wall manufacture technology for internals of gasifier
Large-area nickel-based build-up welding technology for internals of gasifier
Water cooling cover manufacture technology for internals of gasifier
30º double-R tube forming manufacture technology for internals of gasifier
45º coal gas guide tube section water wall cylinder manufacture technology for internals of gasifier
45º oblique connection tube thick-wall large-diameter holing and assembly technology for shell of gasifier
Quality control technology for shell of gasifier
Measurement and assembly technology for internals and shell of gasifier
Leading Position in the Industrial Fields
Shanghai Electric Group is the main supplier of E-class IGCC power generators for Phase I of the Huaneng Green coal-fired power generation project, China's first large-scale IGCC demonstration project.
Our Production Capacity and Achievements
In 2010, we successfully manufactured the first gasifier designed independently in our country for the 250MW level IGCC demonstration project of Huaneng Tianjin.
The entire gasifier is approximately 50m in length and weighs approximately 1400t, which includes vaporizer, return chamber, gas conduit and gas cooler.